PRESERVATION OPTIONS
Preservation Hangers / Bags:
• Bags were good but expensive
• Bags were only purposeful to cater for a specific item, therefore could not be re-used
• Bags could be damaged very easily……..BUT……….
• Hangers provide a low cost per unit
• Hangers have a long life span
• Hangers can serve as multi-purpose storage facilities
• Hangers counter theft attempts
• Hangers re-inforce the protection of weapons
• Hangers are dust proof
• Hangers are easily accessible for inspections and for maintenance procedures to be conducted
LONG-TERM PRESERVATION
AIM
To reduce high maintenance cost and ensure immediate readiness at all times of all equipment stored.
CONCEPT
This concept consist of:
Seal hangers completely off on the inside, in other words make the hanger airtight. No air can flow in from the outside and no air can flow out from the inside.
Dehumidifiers are installed to take the moisture out of the air, brings the relative humidity level down to 40% and keep it between 40% – 50% RH. 24 hours per day.
This concept is according to NATO specifications although we adopt the South African conditions.
GENERAL
Outside air consist mainly of two gaseous constituents; dry air and water vapor
CORROSION
What is corrosion?
Corrosion is the interaction of a metal or alloy with its environment to form chemical compounds. It is an electrochemical action and requires the presence of moisture and oxygen. The air contains both these elements. Corrosion occurs in he anodic area. In the presence of pollutants such as chlorides the corrosion rate is accelerated.
---
• Rack stores
• Stack stores
• Vehicle stores
---
---
Vehicle stores with preservation: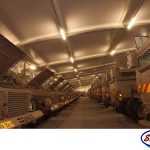 Vehicle stores before preservation: